Tak terasa Bulan Ramadahan sudah masuk kedalam 10 malam terakhir, dan tidak lama lagi umat Islam akan merayakan hari kemenangan, yaitu hari Raya Idul Fitri. Nah biasanya dihari lebaran ini kita saling bersilaturahmi ke keluarga dan sahabat untuk saling bermaafan. Kepada keluarga dan sahabta yang tidak kita kunjungi karena jauhnya jarak dan keterbatasan waktu, kita biasanya mengrimkan SMS Lebaran.
Dari SMS Lebaran ini dapat kita nilai bahwa orang Indonesia itu kreatif loh. Ada yang dengan bahasa Indonesia, bahasa inggris, bahasa jawa juga ada loh. Berikut contoh SMS Lebaran yang kami dapatkan dari internet (http://ailyas.blogspot.com , http://www.isdaryanto.com ).
Kata telah terucap, tangan telah tergerak, prasangka telah terungkap,
Tiada kata, Kecuali "saling maaf" jalin ukhuwah & kasih sayang raih
indahnya kemenangan hakiki, Selamat Hari Raya Iedul Fitri
Mawar berseri dipagi Hari
Pancaran putihnya menyapa nurani
Sms dikirim pengganti diri
SELAMAT IDUL FITRI
MOHON MAAF LAHIR BATHIN
The holy and beautiful Syawal will come soon
There is no word proper to welcome it
Except the word of pray and forgiveness
My Majesty if you forgive all my fault
And hope your worship accepted by Allah
The God of Merciful and the Beneficent
The time has come for every soul to purify heart
for every man to begin a new life &
for us to let all mistakes forgiven &
forgotten, amien.
Happy Idul Fitri.
Ml4ku-ml4ku ning M4li0b0r0
Men4wi s4y4h nump4k bec4k luwih sekec4
Sugeng riy4di k4gem p4njeneng4n sed4y4
S4gung k4lep4t4n nyuwun dip4ringi p4ng4pur4
Dari fenomena ini, Kalau kita cermati, kita bisa membuat Aplikasi yang membantu user untuk berkirim SMS Lebaran. Akhirnya saya coba buat Aplikasinya, Fokus pertama pada fungsi dulu yaitu memudahkan user untuk kirim SMS lebaran Idul Fitri, akhirnya setelah koding tidak sampai 1 hari, Alhamdullilah Aplikasinya sudah saya Upload ke Google Play Store, Bagi yang ingin Mendownload bisa ke
https://play.google.com/store/apps/details?id=com.agusharyanto.net.sms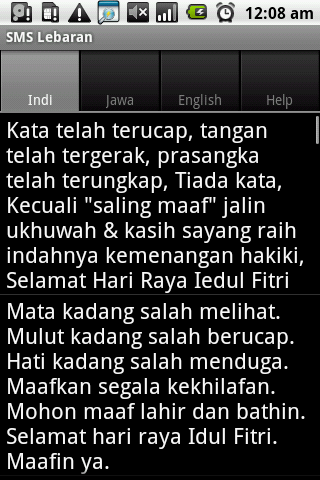 Semoga Bermanfaat
Salam Hangat
Agus Haryanto